BBNaija2019: 'If I Was Single, I Would Have Dated Esther' – Sir Dee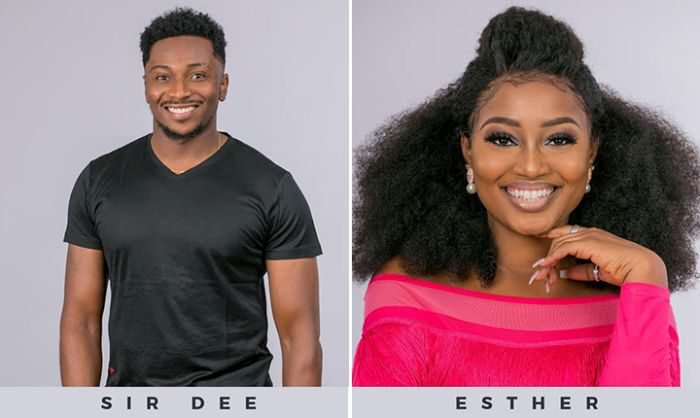 The latest housemates to be evicted from the Big Brother Naija 'Pepper Dem' season 4 house, Sir Dee and Esther paid a visit to our studio on Wednesday, September 4, 2019.
For us, it was an opportunity to speak with the reality TV stars on their experiences in the house. Esther who had a very interesting relationship with fellow housemate, Frodd gave us an insight about their friendship.
One interesting thing about this interview was the fact that we got to ask Sir Dee which of the other female housemates would he have shown interest in if he wasn't in a relationship.
"Of course, I am very human-like that," he said. We wanted to dig further as we asked him to share with us the possible names of housemates.

"There are a few names, of course, you know…I was attracted to people on different levels. So if I was emotionally available, I would have pursued some of those attractions. I would say, Esther. Esther is a very smart girl and very intelligent and intelligence is something that is very attractive," he said.
Esther left viewers of the reality TV show glued to their TV screens when she left Frodd crying after she rejected his love advances. We wanted to find out how that turned into a beautiful friendship later on in the show.
"I think that we all know that, when you are persistent with something, there is a high probability that it will come through. Frodd is persistent with his friendship, I think that's the kind of person that he is. Because he was always at it, always talking to me like I also reciprocated by talking back to him. And eventually, we just got close. When you spend time with somebody, it is bound to happen.

"He was a good person. Our friendship wasn't forced. But Frodd is very intense with his emotions and feelings and I am not that kind of a person. For me, it takes time to warm up to someone. It is really rare for me to just hit it off with people, but it does happen. But in that regards it didn't happen like that," she said.
We asked her if anything would happen between Frodd and herself after the show eventually ends.
"I don't know what the future holds, so I'm opened to the possibility that the future holds," Esther added.
About The Author