How To Become A Celebrity as a Musical Artiste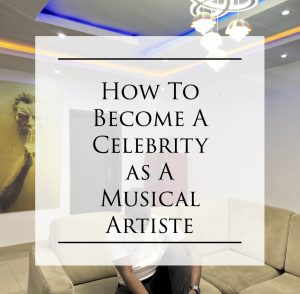 How To Become A Celebrity an Artiste
Becoming a celebrity as a musical artiste takes a lot of hard work, dedication, and talent. Here are some steps you can take:
1. Develop your talent:
Practice and perfect your singing, songwriting, and instrument playing skills. Attend music schools, workshops, and seminars to improve your craft.
2. Create quality music:
Record high-quality music that showcases your unique style and sound. Collaborate with other artists, producers, and songwriters to create great music.
3. Build a fan base:
Use social media platforms to connect with your fans. Share your music, engage with your fans, and create a strong online presence. Contact Mrbloaded for assistance in building a fan base
4. Perform live:
Perform at local gigs, open mics, and music festivals to gain exposure and build your fan base. Network with other artists and industry professionals at these events.
5. Get signed to a record label:
Submit your music to record labels and music distributors. If your music is good enough, you may get signed to a record label that will promote your music and help you become a celebrity.
6. Stay focused and persistent:
Becoming a celebrity takes time, so don't give up. Stay focused on your goals and keep working hard to achieve them.
---
Follow us on instagram :
Follow Us
Follow us on Twitter:
Follow Us
Subscribe to Our YouTube Channel:
Subscribe
Visit our website below for more engaging content.
Visit