Black wall street Africa signs a new artiste known as MSP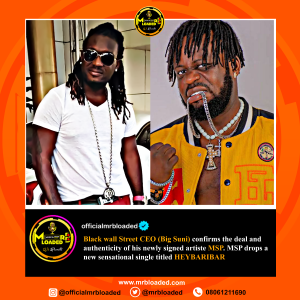 Black Wall Street Signs MSP
Apparently, the Music industry is a "NO NO" without mentioning the names of the likes of the Black Wall Street CEO ( Big Suni ).
The confirmation of the newly signed Artist *MSP* into Black Wall Street had been so tremendous with emerging changes giving the label a new face.
Following the contemporary music, the newly signed artiste (MSP) drops a new single with good vibes and energy which is storming the music industry in a great way. He titles this new jam HEYBARIBAR.
The most highly anticipated jam is out! Get to listen to it and give your humble remark about the song.
Cc: officialmrbloaded
©Black Wall Street Africa