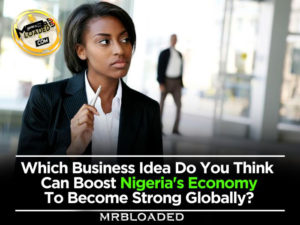 Upon the discovery of crude-oil in Nigeria, our leaders and power brokers payed little or no attention to other sector of the economy that could give us economic relevance in the global scene.

At this point, it is pertinent that the Federal Government engage Nigerian youths with a business idea that will not only boost our economy internally but also place us among world's most strongest economy.
I know there are many smart Nigerians who understand the country is not moving in the right direction economically.
But the big question is
Which Business Idea Do You Think Can Boost Nigeria's Economy To Become Strong Globally?
Drop your comments