"Our Lives Are In Danger" – South African Women Cries Out After This Happen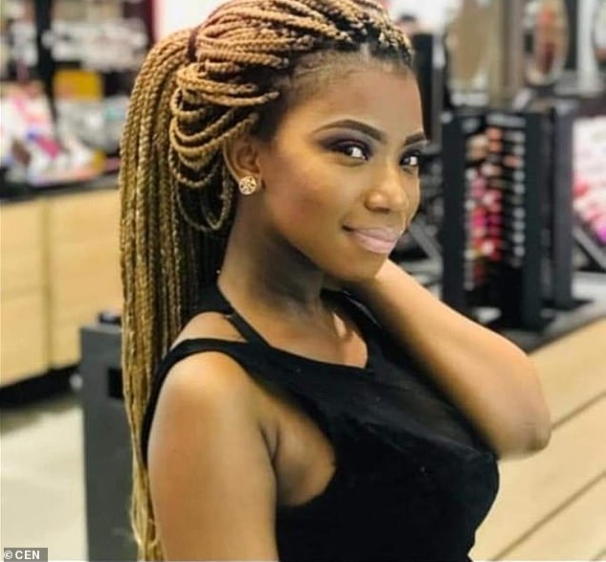 South African women are questioning when their men will come out to fight for them after another South African woman was brutally murdered in the country.
Tshegofatso Pule, 28, a South African woman who was 8-months-pregnant, was found Monday, June 8, hanging from a tree with a stab wound to her chest in South Africa.
She had gone missing on Thursday last week, June 4, after arguing with her boyfriend, David Shoba, at his apartment on the outskirts of Johannesburg.
Her family says she never came home. They tried calling but neither she nor her boyfriend could be reached. After four days of searching, a member of the public found her body hanging from a tree on Monday.
Police say she had been stabbed once through the nipple of her left breast, and have launched a murder investigation.
The killing sparked outrage and resulted in the hashtag #JusticeForTshego.
Tshego was laid to rest on Thursday, June 11, 2020.
No one has been arrested or taken in for questioning and this angered South African women. They took to Twitter and Instagram following Tshego's burial to ask when South Africans, especially the men, will demand justice for South African women the way Black Americans are doing for George Floyd and other victims.
A South Africa woman wrote:-
"I wonder who our George Floyd as South African women will be. A brutal death of one woman where even men will hit the streets and say enough. I am sad that a pregnant woman hanged from a tree is not that moment. Maybe it too needs to be caught on camera. I don't know. I'm sad."
Nicola Siyo, the South African woman who has a child with Ubi Franklin, added:-
"I don't know how many times we need to go through this. Not even an animal can commit this type of brutality towards a pregnant woman, a mother, a daughter, a sister, a friend. Our lives are at risk. Please pray for South African women."