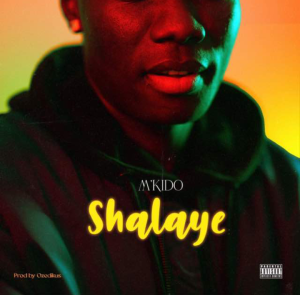 Shalaye by Mkido
Talented superstar artiste and tiktoker, Mkdio, drops a new single titled SHALAYE. You will agree with us that Mkido has done so well to carve a special niche for himself in the Music industry.
M'kidO (born Mujeeb 'Adekunle Amosun) a multi-talented singer ,songwriter, performer and even a French rapper who shows no hesitation letting the characters,he is trying to portray seep into his music and the result is an ideology that modern music is more than just a rhythm.
"Shalaye" is a beautifully uplifting Yoruba song, filled with vibrant energy and infectious rhythm. The instrumentation is centered around a groovy percussion section that includes the talking drum, shekere and bata drums, which all come together to create a lively and dynamic sound.
The lyrics of the song are full of positivity and inspiration, encouraging listeners to never give up on their dreams and never lose hope, no matter what challenges they may face. The message of persistence and resilience is one that is particularly important in the African culture, where the struggle to overcome adversity and achieve success is very much part of everyday life.
The lead vocals in "Shalaye" are characterized by the distinct and melodic Yoruba language, which gives the song a rich and authentic quality. The backing vocals, which are often harmonized and layered to create a choir-like effect, add a touch of sweetness and depth to the overall sound.
Overall, "Shalaye" is a bright and uplifting Yoruba song that celebrates the strength and resilience of the human spirit. It's a song that will get you up on your feet and dancing, while also providing a powerful message of hope and encouragement that will inspire listeners to keep pushing forward towards their dreams.
He combines both Yoruba ,English and French when singing with a smooth neotradional African delivery and of course unforgettable melody and lyrics with his own style of music.
He's a student of Unilorin,studying European languages"French and German to be precise" Winner of ANUCA AWARDS 2014(Best youth artiste of the year) Da 1st invasion awards (best artiste of the year 2015) Nominated as next rated artiste of the year at OMA awards ( Osun state ) Winner of Unilorinhypeartiste of the year 2017 Best friends of international students unilorin chapter 2017 and so on .
M'kidO deciding it was time for serious soul searching embarked on a road journey to another country (Ivory Coast) where he joined a group ( Raven ) which consists of two artistes sherrykay and Tberry.
This was a moment affirmation hit for the singer and the wheels were set in motion.him.he shots is first video "jOrOmi"under Raven Ent. With his colleagues. He draws a lot of inspiration from his mum and gained a lot of respect for women through her.His influences include Maher Zain ,Akon,Sarkodie,La Fouine,Rico Amaj,reekado banks ,Wizkid and 2face.
Listen and download Shalaye by Mkido
---
---