MRBLOADED ALBUM REVIEW!!! Here Is Our Say On Fireboy's New Album "Laughter, Tears and Goosebumps"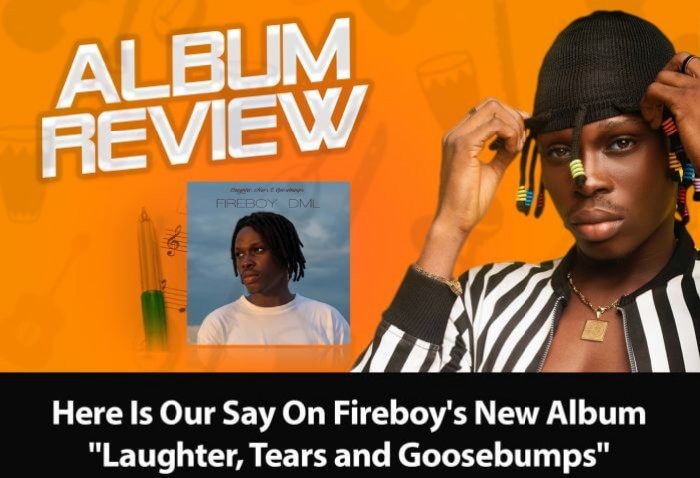 Fireboy's album wasn't expected to make any impact on the music scene.
The expectations perhaps were not high for the project as the timing was so wrong to drop an album, a debut record in particular.
Yet, the night the project dropped, Fireboy trended for most of the day alongside his label honcho, Olamide and Pheelz whose magical touch was felt on the project.
But then, does the album live up to its hype when listening?
Click Here To Download & Listen To The Album
The album is built on three themes: Laughter, Tears and Goosebumps which is the album title and we will be sharing our thoughts on each track.
Let's go straight into it.

Need You
This track welcomes us to an experience awaiting us.
Over twinkling melodies, Fireboy is heard serenading his lover with appellations.
The guitar riffs Pheelz employed here is similar to the vibe created on Adekunle Gold's Orente.
Vibration
There's a switch in tempo after "Need You". Vibration is groovy and you're nodding your head as you're listening.
The track shows Fireboy's versatility on another sounds outside the usual laid back, slow groove RnB theme.
Scatter
At this point, if "Vibration" or "Need You" have impressed you then "Scatter" might leave you speechless as there's this irresistible rhythm that want you to get up and dance like a low budget Fela.
Props has to go to Pheelz for creating this monster of a track.
Another noteworthy thing on this project is the track arrangement. The album stays true to its theme: Laughter, Tears and Goosebumps.
Fireboy finds his lover in "Need You", then as usual, there's this urge to "Gum Body" after a few weeks.
This feeling is explained on "Vibration" and then "Scatter" comes in as a vague track.
It has that commercial appeal as it's sounds like a dancehall track, Niniola would have been a great addition on this.
Jealous
The second theme (Tears) of the album begins with "Jealous", Fireboy feels he might lose his lover and he's getting jealous of her afflictions with other girls.
The delivery of the song killed it all.
Energy
Here's that balance track on the album. You will like to play this on a day of a hangover, when you're down.
Fireboy is missing his lover here and misses her energy.
The melody is contagious here as Fireboy's vocal delivery is impressive and who noticed the splurge of melodies at 2:33?
Like I Do
Tears is already pouring out and it's seeming like its over and a heart break Is imminent as Fireboy explains on "Like I Do" that no one will love her like he does.
The bounce on this production and the hook will be remembered by the guys who have been through a heartbreak before.
This will bring memories and Fireboy settles in a mood and tone that will make you reminisce over the beautiful times you spent together.
Gbas Gbos
"Gbas Gbos" is experimental and will probably be one of the skipped tracks.
Fireboy's love in part 1(Laughter) has gone and he's been working all day and he needs some pleasure to comfort through the night.
King & Omo Ologo
"King" also follows the pattern. "Omo Ologo" is another Fireboy's attempt to show his dexterity and versatility on commercial themes.
These songs should be in for some airplay at the clubs and street parties.
Especially that "Omo Ologo", it sounds like Zlatan kind of vibe. Not bad tho!
High On Life
"High on life" states Fireboy as a lone ranger, only me, nobody. Only him and his family.
At this point, you see Fireboy's attempt at making his album a relatable project.
He's including every bit of human attachment, love, dance, sex, family and good vibes.
Probably the only thing missing is money but love is so precious than money.
Feel
"Feel" is a track that makes you go bonkers, this boy's writing is impressive.
His expression is kinda magical, he knows when to croon, drop the right lines at the right spaces in between.
What If I Say
This is song is no doubt one of the best songs on the Album.
If there is a song that can give that real goosebumps, it has to be this song.
Wait And See
To end the journey through "Laughter Tears & Goosebumps" album by Fireboy is this soul serenading song which he used to make everyone understand his journey so far and more good stuffs he has in stock.
We all have to wait and see Fireboy break records in the music industry.
Our Final Verdict On the Album
Not many have had this superb flow all through the songs on the album.
Last time it happened was Wizkid's "Superstar" and while many have rated the album low, we may not appreciate this album now but in the next few years, we will all look back and salute Fireboy while vibing to the album.
The album established several things as stated below:-
? Fireboy can actually sing, his vocal delivery and writing is impressive
? A&R on this project is also insane. There's a delicate blend of pop sounds with outstanding songwriting when you hear some tracks on the album.
? Fireboy showed his versatility on other sounds in this album.
The album could have been one dimensional with RnB sound throughout but Omo Ologo, Scatter and Gbas Gbos showed Fireboy is a thorough bred artiste.
This album might probably overtake Burna Boy's African Giant and Falz's Moral Instructions as the album of the year.
Don't let me compare it with Davido's Album "A Good Time", that Album was prepared for 7 years.
Overall, we will rate Fireboy's debut Album – 7/10
So Guys ?
What Are Your Thoughts On The Album?
Rate Fireboy's Album Laughter, Tears and Goosebumps On The Scale Of 0-10
Drop your comments
About The Author