[Music] Marvel Blizzy – Body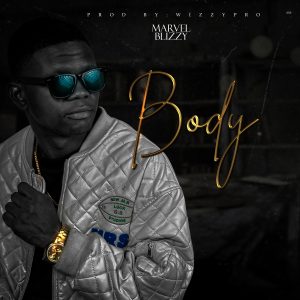 Marvel Blizzy drops a new jam titled Body. He has done well in recent times to give his name a niche in the nigerian music industry.
Marvel Blizzy is popularly known for his good sound well mixed and mastered songs and energetic flows. This new jam titled Body tells more about his kind of music.
Good and talented artiste are emerging day by day, Marvel Blizzy remains part of them. You need to hear this new jam from Marvel Blizzy.
Listen & Download Below
---
---
Check out Lyrics Below
(Intro)
Who call me oh baby o
Boy marvel blizzy
Yeah
Boy marvel Blizzy eeh
Oh oh
(Chorus)
Girl your love they sweet me for my body oh
That kind joy I they get for my body oh
I nor fit betrayed you because of money oh
Baby come make we gum body oh
I know you need some body oh
No underrate me, let gum body oh
Always defend no surrender
Let gum body oh
Oooh oooh, oooh oooh oooh
(Verse1)
I get alot of things to tell you oh baby o (Ah)
My life is incomplete without your love
baby oh (ooh ooh)
I wonder why you nor come my way on time
Time, time time they go
You know say time wait for no man ooh ooh (ah ah..)
Your fine face, your fine face
She they make me feel happy all night long
All night long…ooh (all night long)
(Chorus)
Girl your love they sweet me for my body oh (ah ah)
That kind joy I they get for my body oh
I nor fit betrayed you because of money oh
Baby come make we gum body oh
I know you need some body o
No underrate me, let gum body oh
Always defend no surrender
Let gum body oh
Oooh…ooh
Oooh oooh, oooh oooh oooh
(Verse2)
You driving me crazy oh bady
I can let you go away
You making me to loose control
Oooh oooh, oooh oooh oooh
(Chorus)
Girl your love they sweet me for my body oh (ah ah)
That kind joy I they get for my body oh
I nor fit betrayed you because of money oh
Baby come make we gum body oh
I know you need some body o
No underrate me, let gum body oh
Always defend no surrender
Let gum body oh
Oooh ooh… oooh oooh oooh
Who call me baby
Boy marvel Blizzy
Wizzypro