Is This Right? Bishop Oyedepo Seen With "9 Bodyguards" At Shiloh 2019 (See What Nigerians Are Saying)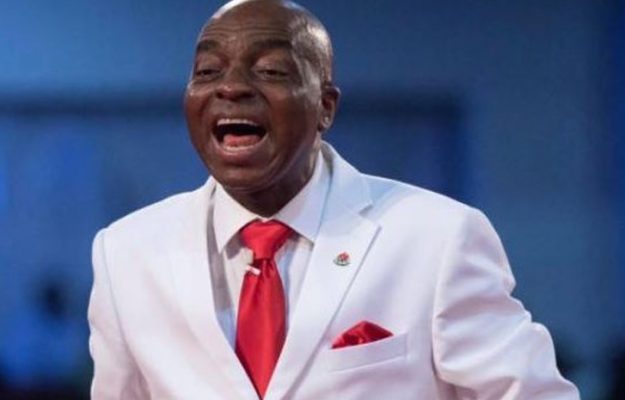 Nigerians are dragging Bishop Oyedepo on Social media for having 9 Bodyguards around him during the 2019 Shiloh..
According to them ➺ Is God not enough for him as security, why use Bodyguards?
What really happened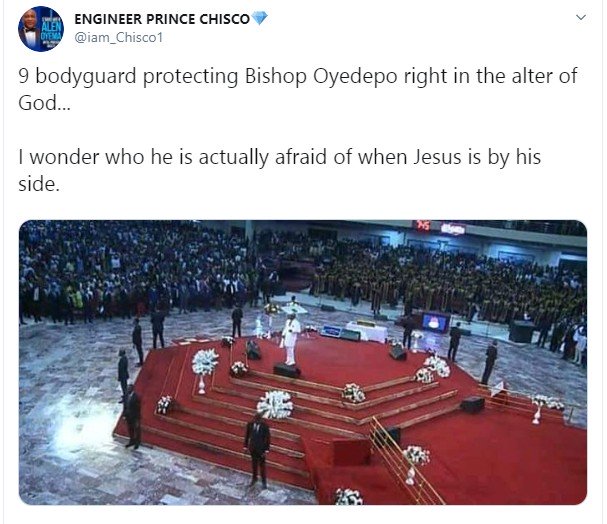 Bishop Oyedepo was spotted in the viral photo, surrounded by 9 men as he preached at his church's annual programme 'Shiloh'.
The photo ignited mixed reactions as some social media users claimed the men are his bodyguards, while others defended the church leader; stating that the men are ushers stationed at the altar to control the crowd.
See What Some Nigerians Are Saying
@iam_selom – "More than 15 bodyguard protecting Bishop Oyedepo right in the alter of God…I wonder who he is actually afraid of when Jesus is by his side."
@ebube_iam – "They're not bodyguards, they are called Protocols, they are from the Protocol department of the church. Even your political leaders have them.
When last did you even go to church? Abi you just want to trend cos the stupid ones will join you in this thread".
@IGlare – "I see some fellows calling them ushers, try getting close to that ur bishop since he is ur pastor, and see the true meaning of Security guards.
I have seen them manhandle worshippers when your Bishop is passing. Afterall he slapped a lady called her witch & you all hailed him."
@leyislee – "Nigeria has turned everyone to critics, we criticize everything even what we know nothing about or should care less about.
Shiloh is going on and hundreds of thousands are there from so many countries. Order is needed. It's not like that on Normal service days"
What Do You All Have To Say About This?
Is It Normal Or Abnormal From Your Own Point Of View?
Let's hear from you all as regards this.
Drop your comments
About The Author