Ten Greatest Female Rappers Of All Time In The Nigerian Music Industry
A list of the Greatest Female Rappers and Emcees in the Nigerian music industry of all time.
9) PRYSE – Princess Esindu popularly known as PRYSE is a Nigerian Female rapper formerly signed to Chocolate city . After signing with Chocolate city label , she dropped a couple of songs including Eleto, Kolo remix feat Burna Boy and Richochet. She also featured on the Choc boys indestructible album.
Following the departure from Chocolate city , she released a series of freestyles named Pryseless Freestyles where she made popular rap covers for songs like Davido's if, Drake's Hotline bling and Ycee's jagaban among others. She also had guest verses on Boogie's Kabieyesi , Phenom Omo naija remix, 5 mics across the oceans and Mi's Notis .. She featured Funbi on the sleeper hit" Christmas with you, Koker on the single " You name it" and Eva Alordiah on the song " Queen Kong".Pryse also made notable appearances on Hennesy cypher Part 3 in 2015 and DJ jimmy jatt " Jimmy Jump Off " in 2013. Pryse has now moved on to create her personal record label, "I.C.O.N Music", an acronym which stands for International Connection Music ..
8 ) MOCHEDDAH
Modupe-Oreoluwa Oyeyemi Ola popularly known by her stage name Mo'Cheddah is a Nigerian rapper and singer. After scoring a marvelous hook on Sinzu 's Won Beri, She released her debut album "Franchise Celebrity" in 2010 under Knighthouse Entertainment. Same year, she won the best new artiste at the MTV Africa awards . She has an array of hit songs including her Smash hit "Ko ma roll", Skuki 's Stamina , destinabamri ft phyno, see me and many more. Her latest efforts include Bad ft Olamide, Cobhams produced tune " Survive and "let me love you" produced by mosa.
7) MUNA
Munachi Gail Teresa Nwankwo is a Nigerian rapper / hip-hop artist, songwriter, pageant winner, television presenter and model who performs under the name Muna.In 2007, she won the Most beautiful Girl in Nigeria pageant. In 2010, she released hit singles like " I feel real" and Killer Queen ". She also featured on hit songs like Waje's inspired, DJ jimmy Matt's Komije and Banky W's Lagos party remix.She featured as a female rapper on the BET Nigeria cyphers for 2011 and 2012 and served as a judge on the rap contest " Nokia don't break the beat" alongside Mode 9 and Djjimmyjatt. Her most recent effort is the song " I choose you " ft lamboginni released in 2016.
6) KEL
Kelechi Ohia is a Nigerian female rapper , and chef from Umudike Umuahia in Abia State. The rapper was popular for her hit singles like, Wa Wa Alright which warned two nominations at the headies , You too fine ft Alaye and Give it to me featuring W4. In 2007, her talent caught the attention of popular music video director, Clarence Peters, who signed her up to his record label, Capital Hill Music . Her debut album 'The Investment,' is one of the most successful hip-hop albums in the Nigerian music industry. The album featured collaborations with artiste such as Durella, Illbliss, MayD , Waje, Ice prince, M.I, Alaye, Shank , Wizkid and YQ and hit songs like Turn by Turn, Sitting On Top, Jeun Soke,Nobody else and Omo yapayaski. She started her free verses series in 2017 with the most popular covers being " True theory" and " I wanna rock " .
5) B.O.U.Q.U.I,
Bukola Folayan aka Bouqui started her professional career with an all girl group called G-Vibes in the early 2000s before going solo . She released her debut album titled " BOUQUI" and the album contains a record breaking fourteen tracks and four skits, the highest by any debutant in the Nigerian music industry. Her lead single "Get it started" in less than a month debuted at number one on the backyard beats segment of the PJ Butter hosted World Chart Show.Other tracks like "Not Ashamed", "Major Problem", "Molejo", "Vanity" and "Wanna Lone U" were household anthems. The album has won several accolades and nominations including the much coveted AMEN awards in 2007 for best female act.
In 2013 , She released her second album " Redefinition" with the hit single " MONILE".and featured Grammy nominee "Da T.r.u.t.h" on a single titled Celebrate. She released a music video for her song "Demo" featuring Angeloh in 2018.
4) WEIRD MC
Adesola Idowu popularly known as Weird Mc released her first single "Allen Avenue' in 1996. The following year she released her debut album" Simply Weird" which got her the Best Hip Hop album at the AMEN awards.
Weird MC's second album was released in 2006 and was titled " After the Storm". The album featured the smash hit 'Ijoya' produced by Don Jazzy and JJC and won the Best Pop Album at the 2007 Headies. She also won artist of the year at the 2007 Headies award.
Ijoya was a monster hit in 2006 and won the Channel O Music Video Award for Best Special Effect .She also scored the massive hit song " Busy body remix " with Psquare. Her lastest music offerings are iwaju iwaju , ijoya remix , Oya eh and carry go released between 2013 – 2015.
3) BLAISE
Funke Martin Luther also known as Blaise started the rap game as far back as the early 90s with Da -Trybe. She featured on the Da Trybe Hit single " Oya" in 2002. She featured on 2008 MTV Base/Zain Advance Warning rap competition, 2009 Hennessy Nigerian Artistry Competition and BET cypher in 2011. She featured on hit singles like Dj jimmy jatts Too much remix , Dipp Good girls rmx, Da suspekt " I no send you" remix and MI's Blaze remix.
Around 2013 , she signed to Nomoreloss (of blessed memory) and started talking up the prospect of her debut album "Love and Power" but the album never really materialized.
In 2014 , she released Osika featuring Orlando Julius, dropped a verse on Xblaze " My song " in 2015 and showed her production skills on the song " That sound " which served as intro to Mode 9 's album " Insulin ".
Blaise is especially praised for her witty words , punchlines and delivery .
2) SASHA P
Anthonia Yetunde Alabi began her journey as a female rap artiste as far back as the early 2000s Her first album " First Lady" remains one of the most successful body of works released by a female artiste in Nigeria . She won the 2009 " Best Female Artist " award in the UK at the Women in Entertainment Awards . She was also nominated in dual categories ( Best Female Video and Best Cinematography ) by the SoundCity Video Music Awards for her second single "Only One" in 2009 .
She was the first ever Nigerian female artist to perform at the 20th anniversary of the World Music Awards in October 2008 . She was also the first Nigerian female artiste to win the Best Female Award at MTV Africa Music Awards ( MAMA) . She has shared stages with international acts including Boyz II Men, Dru Hill , Rihanna, Shakira , P . Diddy , John Legend and R . Kelly to name a few . She has featured on General Pype's Smash hit single " Champion remix , Black magic Confam, Brymo's Ma wo be, yemi alade's ghen ghen love remix and Weird Mc's shewere.Her latest music offering is " Falling in Love " released in 2014.
1) EVA ALORDIAH
Eva Alordiah is the greatest female rapper Nigeria has ever produced .Elohor Eva Alordiah is a Nigerian female rapper , make up artist , actress , youtube vlogger and fashion star. At the tender age of 10, after learning of rapper Eminem , she began to write rap verses. Eva's love for words and rhyming pulled her deeper into the hip hop genre. The computer science graduate from Bowen University released her first official single in 2009 titled "I dey play ".Since then , Eva earned herself the title of the most consistent and complete female rapper in Nigeria.
In 2011 ,Eva dropped the Gigo Ep with songs like I done did it , the controversial single " High", Down low ft shank ,crazy ft sauce kid and your fada ft basket mouth, Ikechukwu and Chigurl. In 2014 ,she followed up her first EP and released the Eva EP featuring songs like Double Double , 100 percent and Back from the High. She also featured on Psquare Shake it down low ,Iceberg slim Ayanfe remix , Bez Super sun remix and MTV base Shuga series Unofficial theme song alongside Burna boy, endia , Sarkodie and Yung L.
2016, she released her mixtape " Because you have been waiting " with songs like Cheating ( Yung L red rose cover ), and What these bitches want ( Dmx Cover ) .
Deaf , one of the singles off her 2016 debut album "1960" became a succesful hit and she organized a rap competition exclusively for girls in order to support and bring out female rappers in the Nigerian music industry. Her debut album "1960" came out in 2016 and received critical acclaim and positive reviews from critics. The album featured Femi Kuti,Olamide, Phyno, Reminisce ,Sir Dauda ,Darey and Yemi alade. The album also housed hit songs such as Deaf and dumb, Kanayo , Dance with you , Deaf and War coming.
2018, Eva released " Secret lover " and followed up with two critically acclaimed offerings , her cover of Kizz Daniel "Fuvk you " and the hot rap single " Solo life " in 2019. Eva has performed far and wide at major shows, won the YEM award for best rap single ( I done did it) in 2012, NEA most promising act 2012 , nominated for female artist of the year at NEA in 2014 and her single "Deaf" also got nominated at the headies for best rap single in 2014.
Eva has managed to remain consistent and relevant for over a decade dropping two EPS, one mixtape and one album , organizing the first ever rap competition for female rappers in Nigeria and jumping on numerous hit singles while bagging endorsement deals including the Guinness made of black campaign and becoming a judge on Nokia don't break the beat rap competition.
Eva is the face of female rap in Nigeria and the greatest female rapper in Nigeria of all time.
10) SPECIAL CATEGORY
It was hard placing these two indigenous rappers on the list because their positions could have been higher or lesser but they remain legends in their own rights .
Splash – Genevieve Nwadinma Ogbuewu popularly known by her stage name as Splash is a Nigerian rapper and songwriter known for her hit singles " Church agbasa" , Na God feat byno, Onye eje ft phyno , Obim and Agege feat Vector. She has also worked with the likes of Charass, stomrex, slowdogg and many others. She remains the first prominent contemporary female rapper to rap in the Igbo language. She is renowned for her heavy use of punchlines and word play .
Tipsy Enupo – Yewande Abiodun aka Tipsy Enupo lays claim to being the first indigenous Yoruba female rapper. Tipsy Enupo has been in the rap game since the coded tunes day with the likes of Olamide and 2kriss and dropped Ile Eru featuring Olamide in 2012 .Some of her hit singles include jagaban ft mzkizz, fimile ft splash, hustle remix featuring olamide and tin geh geh feat dammykrane. She released "bussing my brain" and shot a video featuring dj zeez in 2019.
CONCLUSION
A Big shout out to other female rappers putting in work like Saeon,CandyBleakz, Mzkizz,Tesh Carter, x2, Aina Moore, LucyQ, Phlow, ChillyB, Tobigrey , Beambo Taylor, E legal and other underground female emcees out there . Music listeners and loves across Nigeria would love to see an awakening of female rappers come year 2020 and for them to take over the mainstream industry as seen in the American music scene with the likes of CardiB, Mega thee Stallion and Nicki Minaj doing major exploits in the industry.
This is a call to female rappers in Nigeria. Come 2020 , Come give us the heat !!!!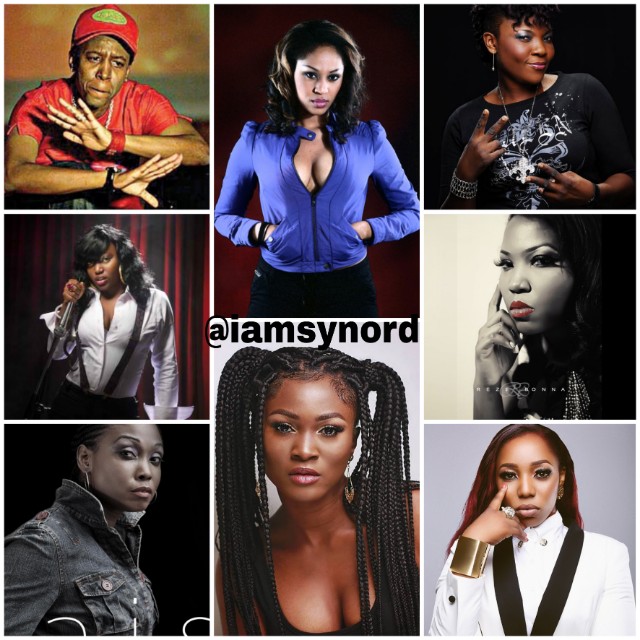 About The Author