Types of Royalties in Music Publishing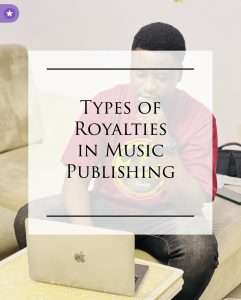 Types of Royalties in Music Publishing
In music publishing, there are several types of royalties that songwriters, composers, and publishers earn for the use of their musical compositions. Here are some common types of royalties in music publishing:
1. Mechanical Royalties:
Mechanical royalties are generated from the reproduction and distribution of recorded music. They are paid to songwriters and publishers when their compositions are reproduced on physical formats (such as CDs, vinyl records) or made available through digital downloads or streaming services. Mechanical royalties are typically based on a statutory rate per unit sold or streamed.
2. Performance Royalties:
Performance royalties are earned when a musical composition is publicly performed or broadcasted. These royalties are collected by performance rights organizations (PROs) such as ASCAP, BMI, and SESAC in the United States, or PRS for Music in the United Kingdom. PROs monitor and license public performances of music, including radio airplay, live performances, TV broadcasts, and digital platforms. The collected performance royalties are then distributed to the songwriters and publishers based on various factors, such as usage data and PRO membership.
3. Synchronization (Sync) Royalties:
Sync royalties are earned when a musical composition is synchronized with visual media, such as movies, TV shows, commercials, video games, and online videos. Songwriters and publishers receive sync fees for granting the right to synchronize their music with visual content. These royalties are negotiated on a case-by-case basis and can vary greatly depending on the popularity of the song, the prominence of the placement, and the licensing terms.
4. Print Music Royalties:
Print music royalties are earned when musical compositions are reproduced as sheet music or songbooks. Songwriters and publishers receive royalties from the sales of printed music, either in physical or digital formats. These royalties are typically based on a percentage of the retail price or wholesale price of the printed music.
5. Foreign Royalties:
Foreign royalties are earned when musical compositions are used or performed outside the songwriter's native country. There are international collecting societies that license and collect royalties for the use of music in various territories around the world. These societies work with local PROs to ensure that songwriters and publishers receive their royalties when their music is used abroad.
It's important to note that the specific details and rates of royalties can vary depending on the country, the agreements between parties, and the specific licensing terms. Additionally, there may be other types of royalties or income streams in music publishing, depending on the contractual arrangements and additional rights granted by the songwriters or publishers.
About The Author