Buhari's Media Aide, Adesina, Threatens PUNCH State House Reporter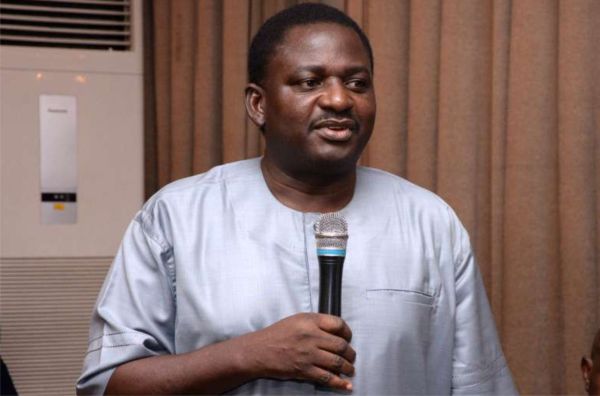 The Special Adviser to President Muhammadu Buhari on Media and Publicity, Femi Adesina , on Monday , unleashed a torrent of abuse and threats on PUNCH 's State House Correspondent, Mr John Ameh.
Ameh and other journalists were at the Press Gallery of the Presidential Villa , Abuja when Adesina , a former President of the Nigeria Guild of Editors , walked in and, without exchanging courtesies , began to scream and gesticulate aggressively at our correspondent in the full glare of his colleagues .
" What was that rubbish you people wrote on Saturday ? Adesina asked , referencing a story published by one of our newspapers , Saturday PUNCH , on Saturday .
" Did you say that Mr President did not approve the statement ? Let me tell you , if you want to last here, you had better be careful !"
The presidential aide then walked away before our correspondent could utter a word in response.
Our correspondent gathered that Adesina had also threatened to bar members of the State House Press Corps from 'open coverage' of the President 's events .
The Saturday PUNCH story , " Tribunal : Buhari retracts , confesses he was under pressure " had quoted Buhari as telling some leaders of the ruling All Progressives Congress who visited him on Friday that he was under tension while the tribunal delivered its judgment on Wednesday.
The president ' s admission, our correspondent noted in the story published on Saturday , was contrary to an earlier statement issued by Adesina in which he claimed that the President had not experienced any anxiety over the proceedings of the election tribunal.
Adesina had issued a statement on Sunday , attacking this newspaper and its journalists . The insult-laden statement was deemed unsuitable for publication by the newspaper ' s editors and , therefore , ignored.
Adesina 's conduct calls to mind the decision of former Security Officer , Bashir Abubakar , to summarily expel this newspaper 's former State House correspondent, Olalekan Adetayo , from the Presidential Villa in April 2017.
Abubakar claimed two articles , " Fresh anxiety in Aso Rock over Buhari' s poor health" and " Seat of power 's event centres going into extinction ," authored by Adetayo were uncomplimentary.
Abubakar had summoned Adetayo to his office, briefly detained him and compelled him to write a statement before directing that his accreditation tag be withdrawn .
The police officer also ordered security operatives to escort the journalist out of the villa.
Reacting to the outrage that greeted the CSO 's overreach at the time , Adesina , in a series of tweets, had reiterated what he described as President Buhari' s commitment to press freedom.
"We weren't consulted in the media office by the CSO before he expelled The PUNCH reporter . President Buhari is committed to press freedom.
"An amicable solution would be found to The Punch 's reporter matter. President Buhari does not intend to muzzle the media in any way ," Adesina tweeted.
About The Author