El-Henry – Looking up to you (worship medley)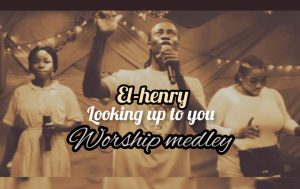 El-henry – Looking up to You
El-Henry is a talented Musical artist who has been so consistent in recent times. He drops a new single titled "Looking Up to You".
This is an uplifting and deeply spiritual song that celebrates the unwavering faith and reverence we hold for a higher power. With heartfelt lyrics and soul-stirring melodies, this song serves as a reminder of the strength and guidance we find when we seek solace in our faith.
The title, "Looking Up to You" encapsulates the central theme of the song. It reflects the heartfelt desire to connect with the divine, acknowledging the profound impact that God has in our lives. The lyrics express a sense of awe, gratitude, and trust, as we seek guidance and inspiration from a higher source.
The music brings a sense of emotional depth and introspection, drawing listeners in with its evocative arrangements and powerful instrumentation. The melody dances between moments of peaceful contemplation and soaring crescendos, mirroring the journey of the soul as it reaches towards the divine.
"Looking Up to You" resonates with listeners on a deep spiritual level, offering solace and encouragement in times of struggle and uncertainty. It serves as a reminder that no matter the challenges we face, we can find strength and hope through our faith, looking up to God as a constant source of love and support.
This song invites listeners to reflect on their own spiritual journey, evoking a sense of peace, inspiration, and renewed faith. It is a heartfelt expression of devotion and a testament to the transformative power of faith and the unwavering belief in a higher power. "Looking Up to You" serves as a beacon of hope, reminding us that we are never alone, and that divine love and guidance are always there to light our way.
---