Today on MRBLOADED, someone asked Why Do Churches Organise Prayers For Barren Women And Leave Low Sperm Count Men Alone?
It's not a new thing that Churches are found of organizing prayer session for barren women.

Well nothing is bad about that because we all believe that anything that doesn't go as planned needs prayer, even things that goes well need prayer to solidify it.
But the question now is, what about men with low sperm count?
Are their problem beyond prayers? No prayer session, nothing nothing, just go and see doctor, no spiritual battle with the demon.😂😂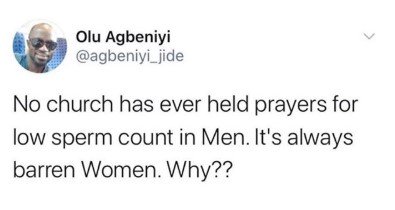 What Do You Think About This?
Drop your comments