Tobinsyn ft Tonife – Peace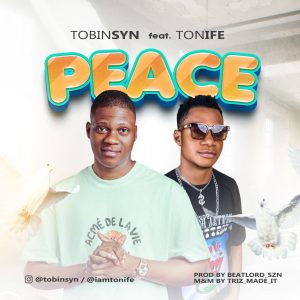 Tobinsyn ft Tonife – Peace
Talented superstar artist popularly known as Tobinsyn drops a new single titled PEACE. This new single features Tonife who is a record producer in Nigeria.
Tobinsyn

Background information

Artiste name

Tobinsyn
Born
Nigeria
Genres
Occupation(s)
Instrument(s)
Vocals

Years active

2009-present
Labels
Formerly of
Nill

Spouse(s)

None

Website
Tobinsyn is known for his amazing sound and good vibes which is always banging. This exceptional artist had done so well in recent times to show the world his craft and energy.
"Peace" is a soul-stirring musical journey that encapsulates the profound longing for harmony and tranquility in a world often plagued by chaos and unrest. The song, both poignant and uplifting, seeks to ignite a universal desire for unity and understanding.
With its heartfelt melodies and evocative lyrics, "Peace" invites listeners to reflect upon the power of compassion and empathy. The verses paint vivid imagery, illustrating the beauty of diversity and the potential for profound change when we come together as one.
The song's arrangement is carefully crafted to create a serene and contemplative atmosphere. Gentle acoustic guitars and ethereal piano chords blend seamlessly, providing a soothing backdrop for the emotionally charged vocals. As the song progresses, additional layers of instrumentation, such as warm strings or subtle percussion, gradually build, mirroring the growing momentum of collective hope.
Throughout the chorus, the lyrics offer a resounding call for unity, urging individuals to rise above their differences and embrace the transformative strength of love. The words resonate with authenticity and conviction, serving as an anthem for those seeking solace in a world often marred by division.
"Peace" is more than just a song; it is a heartfelt plea for a better tomorrow. Its enchanting melodies and thought-provoking lyrics strive to inspire listeners to be the catalysts of change, fostering an environment of peace, understanding, and acceptance in their own lives and communities.
With its universal message and timeless appeal, "Peace" serves as a powerful reminder that the pursuit of harmony begins within ourselves and has the potential to ripple outwards, shaping a brighter and more compassionate world for generations to come.
This new single is titled PEACE and you won't want to miss the exciting lyrics and message in the song . Streams , share and enjoy with family and friends.
Listen & Download