Superstar YB ft Chinko Ekun – Love in Lagos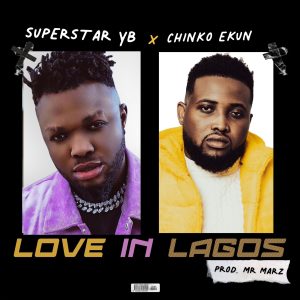 Superstar YB ft Chinko Ekun – Love in Lagos
Discover the irresistible rhythms of "Love in Lagos" by Superstar YB and Chinko Ekun, the perfect summer anthem that combines the vibrant sounds of Afrobeat and Amapiano.
"Love in Lagos" is a lively and energetic song that celebrates the vibrant culture of Nigeria's largest city. The infectious rhythms and upbeat tempo are inspired by the afrobeat genre that originated in Lagos and have since spread all over the world.
The lyrics speak of the joy and excitement that comes from falling in love in this bustling metropolis, where the sounds and sights are always exhilarating. The vocals are soulful and passionate, with a touch of nostalgia that speaks to the city's rich history and vibrant present.
The instrumentation is a blend of traditional and modern, with the use of percussions and brass instruments that give the song an authentic African flavor. "Love in Lagos" is a celebration of life, love, and culture that will have listeners tapping their feet and singing along in no time.
It's a song that pays homage to one of the world's most exciting cities and the love that can be found amidst its vibrant energy.
This mesmerizing track takes you on a journey through the bustling streets of Lagos, where love blooms against the backdrop of the city's energy and charm. With its infectious beats and enchanting storytelling, "Love in Lagos" is set to become an instant classic.
---